Reaching out to those who are furthest from the discussion is the challenge of many participatory processes. Achieving this with refugees seems all the more incredible. However, this is the daring and successful bet of Dr. Faheem Hussain (1) who organized, in 2018 between Burma and Bangladesh, a citizen dialogue in a Rohingya camp. This researcher specialized in information and communication technologies explains the meaning of this initiative.
Missions Publiques. What are the political circumstances underlying the displacement crisis of Rohingya people and why is it important to know what the community thinks about the future of the Internet?
Faheem Hussain. Firstly, 20 people are newly forcibly displaced every minute of the day as a result of conflict or persecution. By the time you will have read this paper, around 100 people will have forcibly been displaced from their homes. By the end of mid-2021, 84 million people around the world were forced out from their homes, around nearly half are children.
The Rohingya have suffered decades of violence, discrimination, and persecution in Myanmar. Their exodus began in August 2017 after a massive wave of violence broke out in Myanmar's Rakhine State, forcing more than 1.3 million people – again half of them children – to seek refuge in neighboring country Bangladesh. They are the largest ethnic group to be persecuted in the world.
This marginalized group of people have been a tragic case where we failed as a community and where the Internet society realm failed to protect them. And when Covid-19 struck, their lives in the overcrowded refugee camps became even worse and presented yet another threat to their existence. Isn't it a cruel joke to tell people to wash their hands frequently when they don't have running water in the most densely populated refugee camps in the world?
When we went to the Refugee camp back in 2018 at the boarder of Myanmar and Bangladesh, the Rohingya people were banned from the web by the local government. These are women, men and children in the middle of nowhere with zero connectivity. What we found out was interesting because Rohingyas acknowledge that they have been persecuted using the Internet but also acknowledge that information in general has been used to amplify their fights and connect with humanity. It was so humbling to see how they had been using connectivity and parallel offline ways of communicating to survive. Even with no access to the Internet, they found ways of customizing messages. Access to online information is the difference between knowing that family members back home are safe and living with uncertainty about the fate of your loved ones. Understanding their aspirations about the future and about their resilience using the Internet was important to learn and share.
"Even in a place where Internet barely exists, cyber-bullying, revenge porn, women trafficking, and cybercrime subsist
Faheem Hussain
Assistant Professor in the School for the Future of Innovation in Society (SFIS) at Arizona State University (ASU)
Missions Publiques. Persecution, extremely difficult social and health conditions… How did you and your team manage to organize a dialogue in the midst of a humanitarian crisis and to communicate with the Rohingyas?

Faheem Hussain. Stuck between a host country trying to prevent their integration and a home country that may prevent their return, the Rohingya people were difficult to communicate with because of the language barrier. The Bangladeshi government bans Rohingya refugees from learning the local language as part of its reluctance to allow their long-term integration. Meanwhile, the Rohingya hope they will someday return home to Myanmar, so parents want their children to learn Burmese. Some feel that raising their children with Bangla as the dominant language might further alienate them from the Rakhine and Burmese population once they return home. At the same time, not knowing Bangla results in marginalization in Bangladesh, their host community.
Of course, the people had no means for translation in the camp, so we had to translate everything into Bengali first, which is not their own language but the host language. We had to make sure that the majority of what was being said didn't get lost in translation because it all became an oral conversation.
Then, the women were very much skeptic about our will to include them in the discussions. Even there, women are more marginalized than men and the patriarchy doesn't like them to be a part of the communication infrastructure. Women could be allowed to speak over the phone without actually using the phone themselves or the smart features of the phone. Patriarchy imposes its control over women even in the most marginalized communities. I was not able to go and talk to them or communicate with them at all, so I had to ask my wife to come and be a part of the conversation too. This really helped. We also found other women who agreed to help with the translation part. As usual when engaging with marginalized communities, trust was one of the main barriers we had to deal with.
I still have goosebumps when I remember a conversation I had with an elderly woman (the woman on the picture on the left with the orange head scarf). When I asked her what the Internet meant for her, she replied that it was the way for her to apprehend and "punish the guys who harassed her daughters". It was quite an overwhelming statement. Even in a place where Internet barely exists, cyber-bullying, revenge porn, women trafficking, and cybercrime subsist. Knowing this and understanding this can help go forward to address these problems.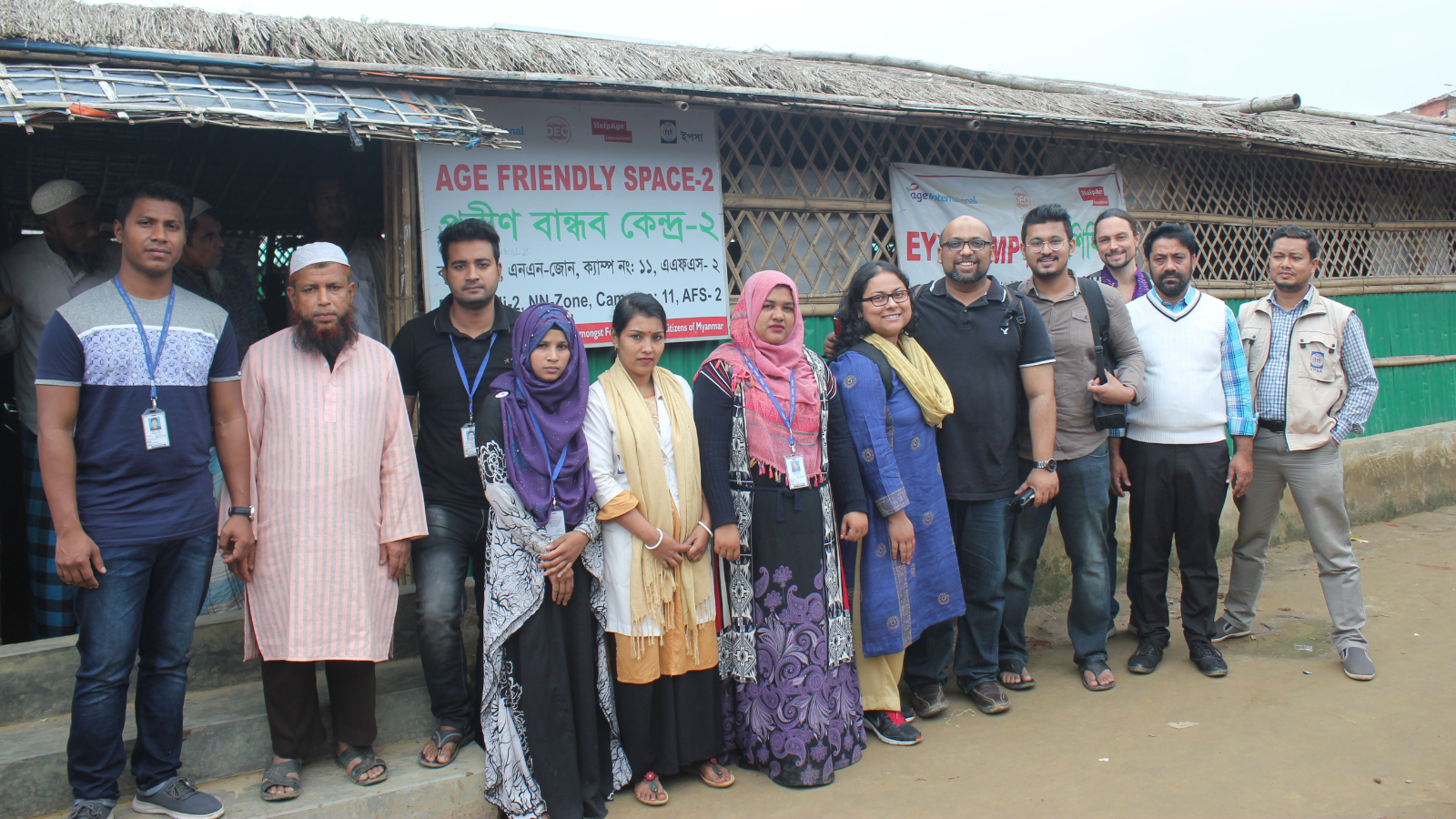 Missions Publiques. Four years later, if you were to do a Dialogue in a refugee camp again, what would you do?
Faheem Hussain. If we were to do a Dialogue there today, the Rohingya people living in the camps would now have internet access to educate and equip themselves. It would be much easier to directly work with the refugees themselves and get more raw data. I would go for some in-depth participatory research on ethnographic observations. Establishing trust with such vulnerable community is critically important. Once the trust is established and research questions as well as the methods are co-determined, the actual collection process need to be quick, digitized, and customized, using story-telling, pictorial charts, and in-person conversations. Deterministic sampling is required in conflict zones and among vulnerable population to ensure their active participation.
But no matter how much we try, when we go over there with our Western words and ideals, there will be power metrics. I would really try as much as possible to break down these power dynamics before launching a conversation. This would be a must. If we are parachuting in and out, we can try our best to listen to their questions and challenges, not only content ourselves with getting the answers to our questions. Many of the things I have understood have come from the conversations that came by speaking to the people in an informal basis, based on trust. And that's not easy to get, it takes time and creativity. They need to feel a connection. I believe that in addition to sharing the legacy of Humanity, we are also part of the republic of Facebook/Meta and Google. How are we defining our identity in that framework? I think that's something we have in common, and it can help build a connection for a meaningful dialogue.
(1) Dr. Faheem Hussain is a Assistant Professor in the School for the Future of Innovation in Society (SFIS) at Arizona State University (ASU). Faheem holds a Ph.D. and an M.S. degree in Engineering and Public Policy from Carnegie Mellon University, an M.S. degree in Telecommunications Management from Oklahoma State University, and B.S. degree in Computer Science from Dhaka University. Faheem's research interests include Digital Solutions for Refugees, Information and Communication Technology for Sustainable Development, Digital Afterlife, Social Media, Digital Rights, Women's Empowerment, and Sustainable Development Goals.  Faheem Hussain has also been involved as a Technology Policy Specialist in various research projects with a number of United Nations organizations (e.g., UNDP, ITU, UN-APCICT), international development agencies (e.g., IDRC, DFID, Ford and Rockefeller Foundation), and international think tanks (e.g., Freedom House, LIRNEasia, Ideacorps) in the fields of Technology, Public Policy, and Development. It is part of the Fellows program of Missions Publiques.